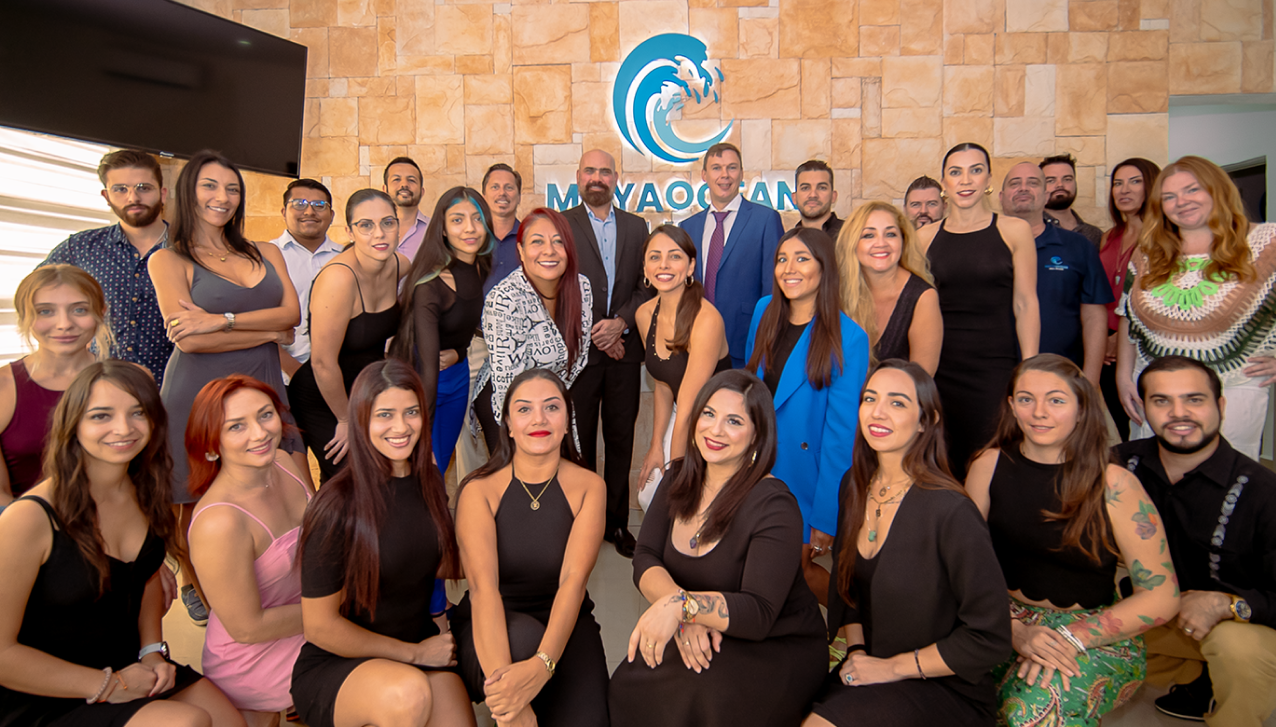 About Us
We are Master Brokers of 24 developments distributed in Quintana Roo and Yucatan offering a wide variety of options and locations to our buyers and investors starting from small buildings, houses and up to 150 Ha ongoing urbanization.
Leaders in the market
Our journey over 16 years of experience
We began operations in February 26, 2007

Dedicating ourselves to property administration and vacation rentals and commercialization of condominiums and houses in the city of Playa del Carmen.

We are Master Brokers of 24 developments distributed along Quintana Roo, Mexico

Offering a wide variety of options and locations to our buyers and investors starting from small buildings all the way up to an urbanization of 150 Ha distributed in the cities of Cancun, Puerto Morelos, Playa del Carmen, Tulum and Mahahual.

Our growth has been dictated by our clients' needs:

Thanks to the needs of our clients today Maya Ocean has become a comprehensive solution covering areas of architecture, urbanization, market studies, project feasibility forming a fundamental part of the urban future of Mexico.

The continuous growth of demand for vacation rentals in the Riviera Maya and the need of our clients:

To rent their home for the months that they would not be occupying it

As well as having someone to take care of the maintenance, administration and well being of your second home we grew exponentially providing Promotion and Vacation Rentals services creating our sister company Royal Properties thus diversifying our services into two different brands so we can better serve our clients.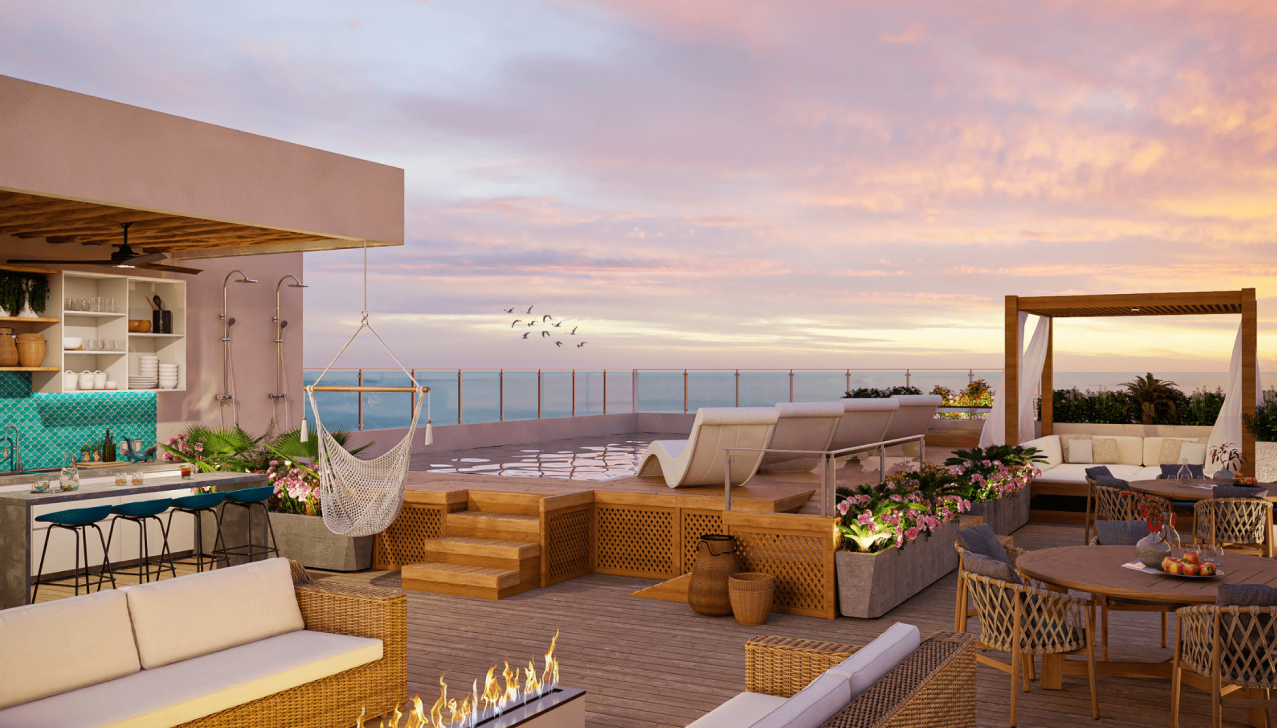 Leaders in the market
Our mission, vision and values
As a company we are strongly committed to our values and goals making Maya Ocean Real Estate one of the leading agencies in the Riviera Maya and Mexico.
All of this has led us to improve and multiply our services, allowing us to better understand the market and how to provide a better overall service by having a deeper approach and understanding the real estate industry in Mexico.
We have cultivated our clientele, commercial and labor relationships so they are long lasting relationships.
Mission

Offer comprehensive advice through a highly trained professional team committed to providing the best real estate investment options, with total security and legal certainty for our clients.

Vision

To be the most recognized real estate company in Mexico, for offering services within a framework of strict legality and transparency, thus being the best option for clients, owners, developers and developers.

Values

Honesty, respect and responsibility make up the foundation on which our success resides and represent the way we work every day within our work environment as well as in our business relationships and associations.
Make the right decision at the right time with the right agency
Comprehensive Real Estate Service
Composed of more than 150 real estate professionals including 5 Managers, 14 Team Leaders and 3 Project Leaders from different parts of Mexico and the world attending our offices in the cities of Cancun, Playa del Carmen and Tulum who are familiar with the area and the market, tendencies and growth of the Riviera Maya and the State of Quintana Roo and passionate about living in this paradise of lifestyle and investment that we call home.
Our team of professional realtors embrace the values and goals of Maya Ocean and project themselves as true ambassadors of our corporate philosophy, compromised in generating positive results and long term relationships surrounded by an harmonic work environment of continuous education and growth opportunities.
Our result oriented marketing team composed by 1 Manager and 12 multidisciplinary professionals that contribute in generating top of the line personalized branding, lead generation and public relations marketing successfully contributing to the sales and our yearly goals. Both marketing and sales teams are under the same direction thus allowing better communication channels, clearer goals and team work. We implement science in our marketing strategies by analyzing deeply the statistics, market and public behavior to better utilize the exposure channels where we utilize over 20 different conversion routes.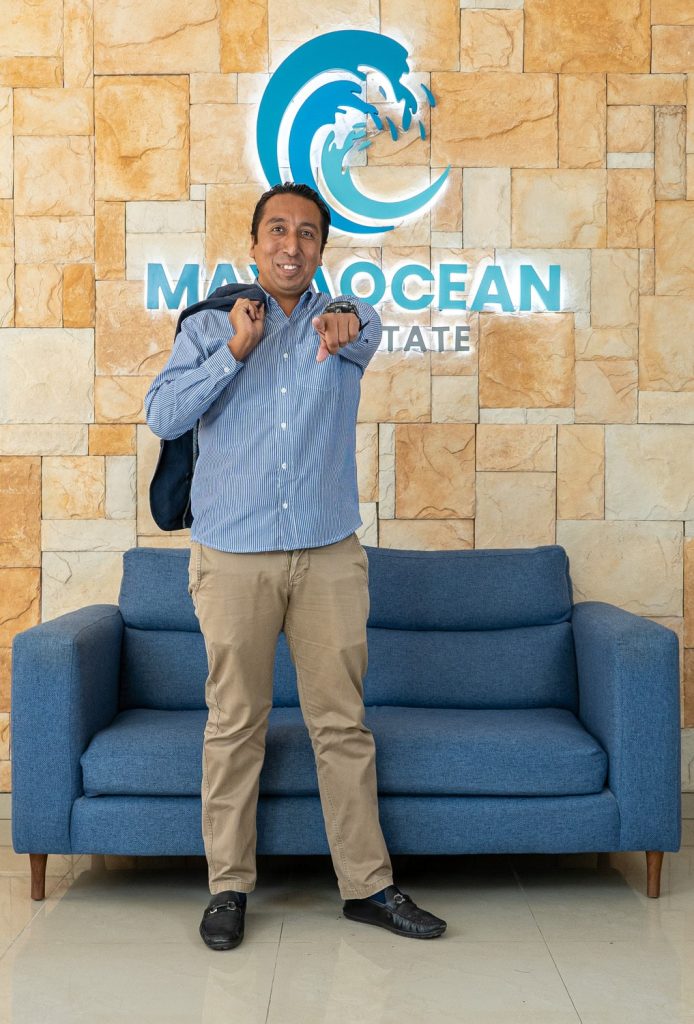 Our team of lawyers and legal brokers facilitate the legal formalization of the sales process by gathering the required documentation from all parts, performing property checks and notarial processes generating trust and transparency for both national and international buyers providing an important support to the buyers, real estate advisors and developers.
With buyer clients, offering total legal certainty, with certified products. We also have the support and advice of professionals outside the company, such as lawyers, notaries, appraisers, financial and mortgage advisers, etc., in order to achieve the best possible negotiation for our clients.
With our partners, working day by day in the development and growth of the company, in order to achieve high rates of growth and profitability.
With associates, Offer an excellent work environment, constant training and support and guaranteed products, as well as an unbeatable system of commissions, bonuses and benefits.
With the authorities, municipal and federal, maintaining close and cordial relationships, based on compliance with current legal processes.
With selling clients, guaranteeing them the necessary professional advice for the administration, promotion and commercialization of their properties.
At Maya Ocean Real Estate our focus in terms of real estate inventory and commercial relationships with developers is to offer the best investment or housing options in the Riviera Maya for our clients.
We select our inventory according to market studies taking into account the current and future development of the area, as well as its connectivity, capital gain potential and profitability.
In this way we offer both a wide variety of quality options that ensure your investment and assets in the long term and reliably.
Our services
We encompass the real estate world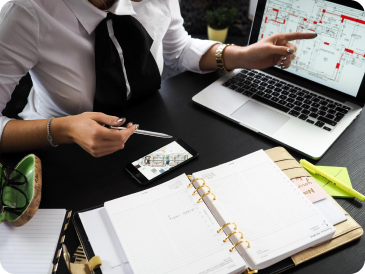 Our Services
They are the commercialization of real estate, property management, sale and rental of residential, luxury and commercial properties, promotion, administration, operation and customer service of vacation properties.
Market study, planning and development of real estate projects, real estate investment funds, consulting, turnkey projects, advice for investors and developers.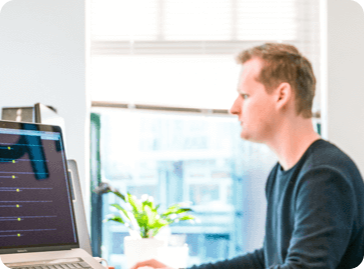 Maya Ocean Group Services
We offer architecture services, project projection, engineering, permits and construction procedures, construction and remodeling of houses, buildings and urbanizations highlighting each project in its originality and beauty.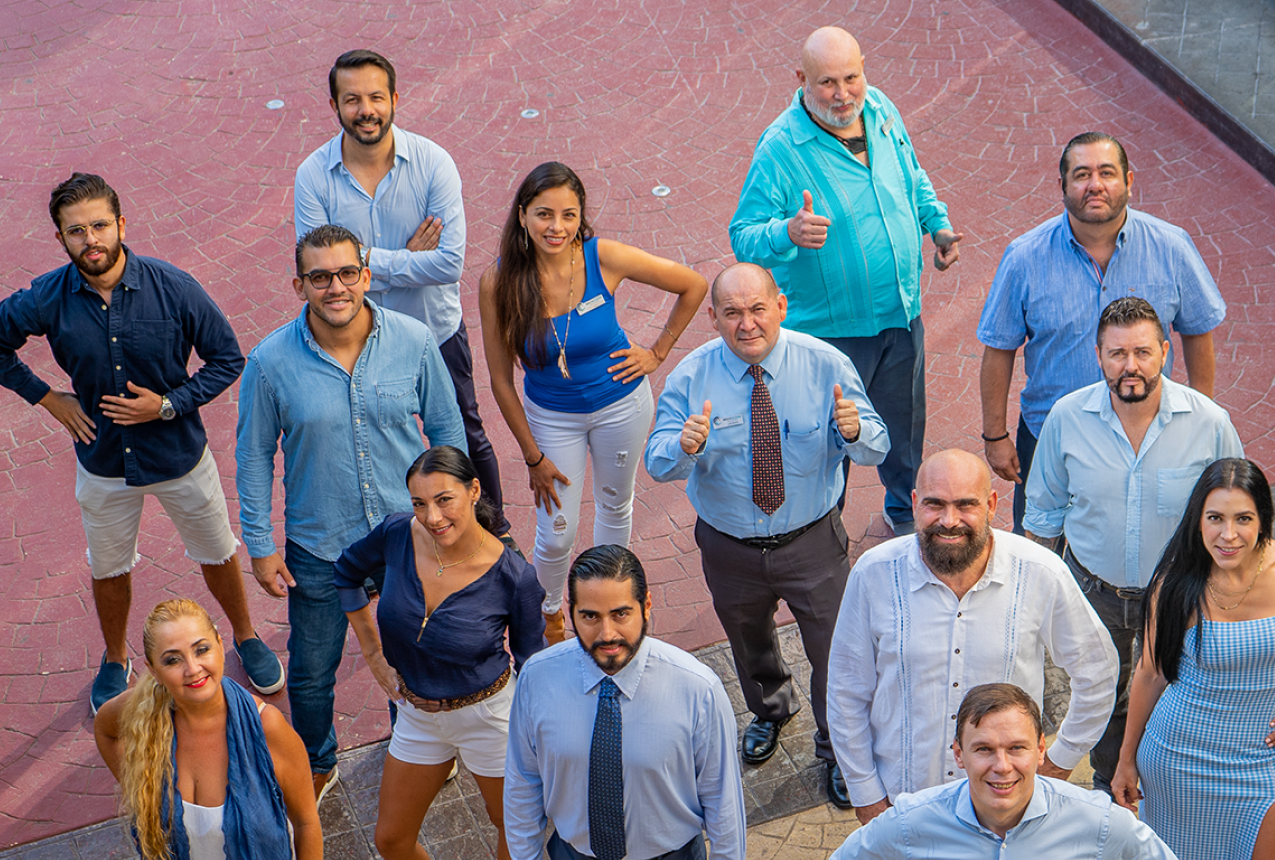 Our Real Estate Professionals
Associations
We are active members of the CANACO (NationalChamber of Commerce), AMII (Association of the Real Estate Industry), AMPI (MexicanAssociation of Real Estate Professionals), CECACL (Evaluation and Training Center for Labor Competence) and the NAR (National Association of Realtors).
This allows us to maintain a close relationship with all affiliated real estate agents to have a greater reach and impact, both in the promotion of our exclusive products, and in the generation of diverse negotiations, both at the state, national and international level.
We also have partnerships with more than 250,00 Brokers Internationally, 3,600 Brokers and Agencies active in the south east of Mexico mainly in the state of Quintana Roo

How we work
Our Channels and Community
Blog

Find out about news, information, tips,real estate market trends, architecture, interior design, decoration, development, surplus value, property maintenance, purchase process, documentation, mortgage options, lifestyle in the Riviera Maya, growth, development and connectivity of Cancun, Playa del Carmen and Tulum, tourism, vacation trends, entertainment and much more…

Brokers Network

Our Local Real Estate Network of colleagues in the Riviera Maya extends to more than 3,600 experts in the Real Estate Industry throughout the Quintana Roo area, thus providing a strong multiplier effect to potentiate the development, sale and purchase of residential homes or real estate investments facilitating communication and advice for our diverse clientele

Local Real Estate Network

The good relationships generated by our network of agencies is a solid component of who we are and our scope since our strength lies in the way that we have accompanied and been part of the development and success of the real estate industry of the Riviera Maya

Today we jointly present a wide scope towards our wide portfolio of clients and investors forming a solid working group distinguished by the success of our commercial relationships

Platforms and Applications

We use the most popular and reliable applications and websites for sales promotion, long-term rentals, vacation rentals and broker networks with the aim of having a wide reach worldwide to obtain clients in an extensive and satisfactory way for owners and investors in real estate trade in general, real estate and vacation rentals

Some of the platforms we use are: Busca la Casa, Lamudi, Inmuebles 24, Vivanuncios, AirBnB,Expedia, Travelocity,VRBO among some of the most popular

Social Media

Social networks are a very important component for the global and avant-garde reach of today's real estate industry since the vast majority of users who are an active part of the digital community and we communicate with our followers, clients, fans, agencies, brokers,friends and people looking for property options in purchase, rent and sale of the Real Estate Market of the Riviera Maya

Websites

Our channels and brands are a fundamental part of our online presence and that of the developments we represent allowing us to promote our property management services, real estate trade, long-term rentals and vacation rentals through multiple websites such as: mayaocean.com (real estate trade), Royal Properties (vacation rentals and property management), Vedra (trade and condo/hotel management)

Software and Technology

We use the most advanced and trending tools in the market making use of applications, software and technology to keep track of communications, share files, transparent and secure customer registration, record offers with our customers and highly protected databases that automate our work and facilitate connection with our multiple channels

Traditional Methods

We actively participate in real estate exhibitions, "open houses",launch events and promotion of developments, we publish in magazines and newspapers of local, national and international scope to promote our inventory of houses, apartments, commercial premises and land, we also openly socialize generating positive commercial relationships with owners, investors, builders, developers, sellers and marketers thus covering the wide community that makes up the Real Estate industry
Contact us
Let's explore Real Estate in the Riviera Maya
Interested in the Riviera Maya real estate market? We've got you covered!
Contact us to learn about our real estate services.
Real Estate consulting
Expertise in the real estate market of the Riviera Maya
Consulting on acquiring properties in Mexico
Advice for real estate investors
Resales of houses and apartments
Opportunities in the pre-sales market
Consulting in urbanization projects
Leaders of the real estate industry